Your perfect auto loan is right around the corner in Monticello, Illinois at the Rick Ridings Auto Group! Get approved for financing today!

Pick Your Vehicle.
Choose from hundreds of  new and used vehicles in the Monticello, IL, area. Including: Ford, Chevy, Buick, Chrysler, Dodge, Jeep, RAM.

Customize Your Payments.
Use the Explore Your Payments tool to adjust everything from the down payment to the term and find the payment plan that works for your budget.

Submit Your Credit App.
With one simple form we can submit your application to over 18 local and national lenders who will compete for your business.
Customize Your Payments
Just click on Explore Your Payments on any of our vehicles and customize your term, down payment and more.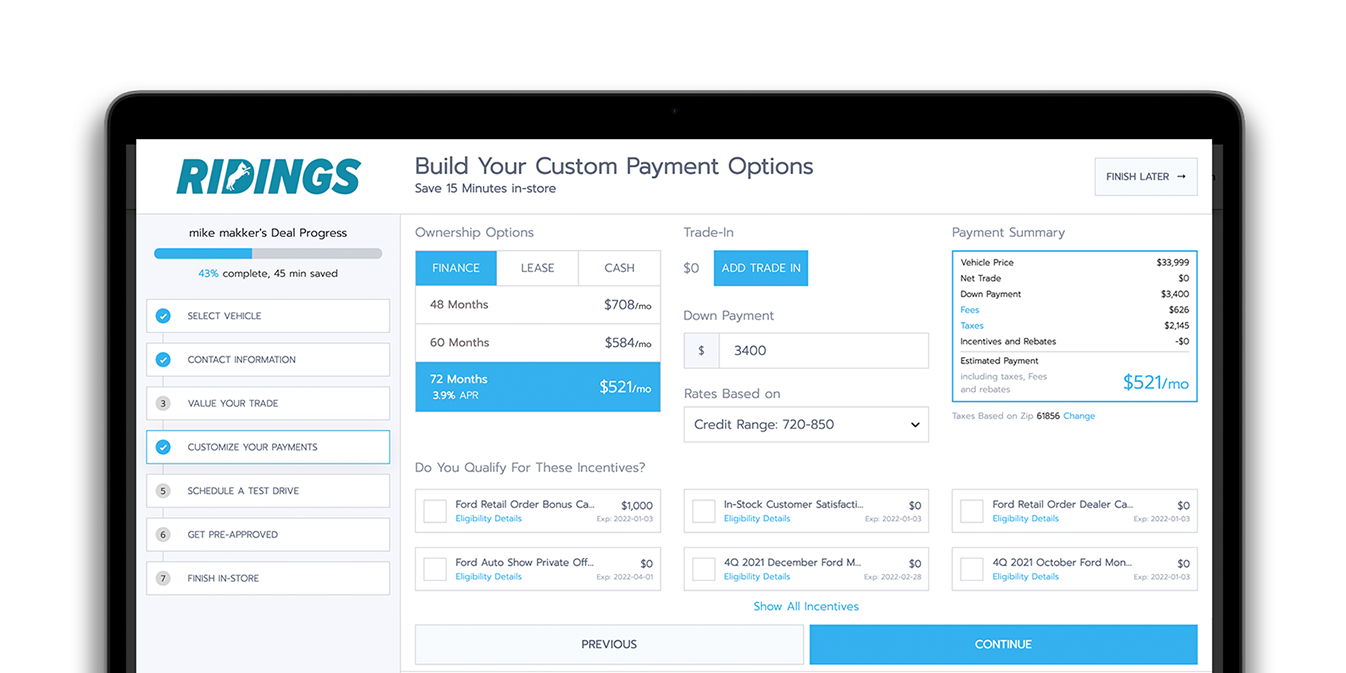 Three Stores, Hundreds of Vehicle Options!
Are you shopping for a new Chevy, Buick, Chrysler, Ford, Jeep, Ram, or Ford vehicle? Pick your Rick Ridings Auto Group location below and get started! Used car shoppers - get the flexible pre-owned vehicle financing you need at ANY Rick Ridings Auto Group location! 
We are just a short drive from Decatur and Champaign, IL.
Auto Finance Lenders We Work With
We work hard to find the car loan that meets your needs and your budget. That includes working with the best and most competitive lenders available to offer you a variety of flexible auto financing plans.
We work with more than 18 different local and national lenders to ensure that you get the absolute lowest rate possible. No matter your credit score or current financial situation, we can get you approved for the new or used vehicle you need.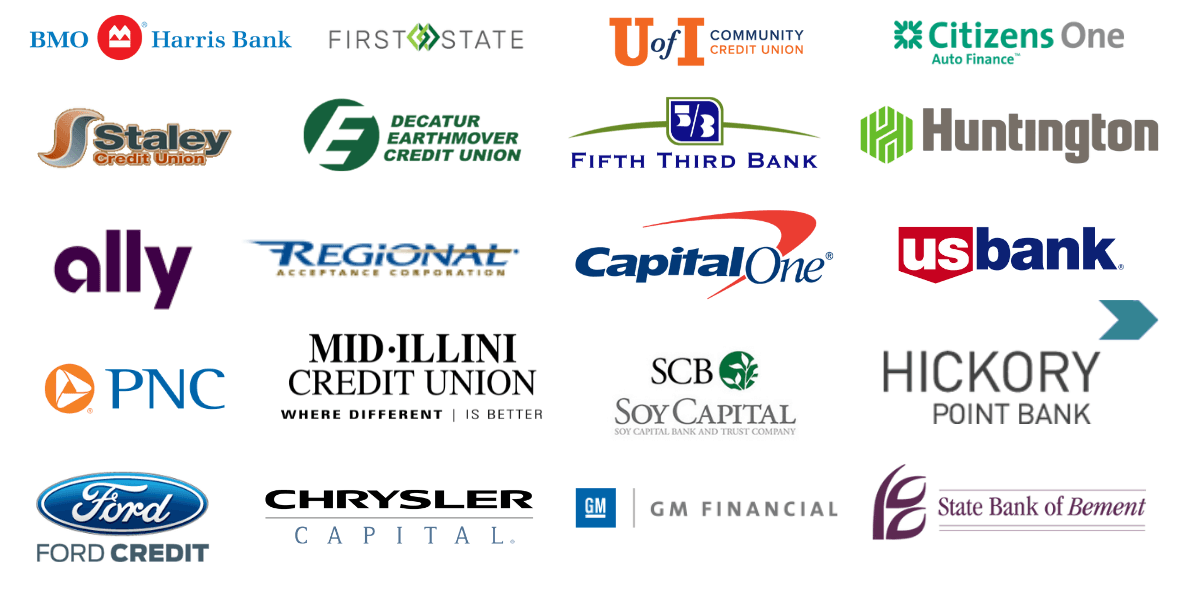 Auto Financing FAQ's
Here are the answers to some of the most commonly-asked questions about auto loans. Need more info? The Rick Ridings Auto Group team is here to help! Contact us online, give us a call, or visit one of our three convenient locations today! Get your next car loan the Rick Ridings way!
Can I use my own bank to get an auto loan?
Yes you can! We can work with any financial institution you want. We will even take a few moments to compare your terms to some of our lender options so that you can be sure you're getting the very best rate!
Can I use any bank or credit union to get an auto loan?
Absolutely! We work with more than 18 financial institutions, but if your bank isn't on the list above, no problem! We can work with your preferred lender and save you the hassle!
If my bank is listed above, do I need to secure my own car loan?
No need! We'll do it for you! Why go through the hassle when our finance team can handle everything in minutes? If your current bank is one of our lenders, it's even easier for us to take care of all the details for you!
How do I get approved for an auto loan?
Our process is simple.
Choose your vehicle
Choose your terms and down payment
Fill out a credit application
Submit it to a qualified lender
Where do I start the auto loan process?
Visit one of our locations and let our finance team work for you. You'll get competing rates and an auto loan tailored to your purchase. You can also get a generic, max-dollar loan directly from your bank. There are even many online pre-approval options to secure a car loan.
How will I know if I qualify for an auto loan?
There are a myriad of factors that banks and credit unions look at to determine whether someone is qualified to receive an auto loan. The easiest way is select a vehicle that you would like to purchase and have the dealership submit the deal to the lending institutions.
Do I have to put money down to get an auto loan?
Not necessarily. The answer really depends on many factors. Some factors are credit worthiness, income, and loan to value. Every bank or lender has different requirements for loans.
How much money do I need for a down payment?
That varies based on several factors like the specific vehicle's book value, and price, versus the overall loan approval amount. Your credit score is also a major factor, as a lower score will typically require a higher down payment.
Can I use my credit card for a down payment?
In most cases you can. Some lending institutions will allow for a certain amount of money to put down using a credit card. The dealership may also have a limit to the amount that can be charged on a credit card without a fee being applied. Credit card companies charge business fees to process each transaction based on the amount charged.
How do I know if I have good or bad credit?
You could fill out our credit application online and we can give you an overview of your credit as well as a strategy for what it will take to purchase a vehicle. You can also find out your current credit score through one or more of the three major reporting bureaus, Equifax, Experian, and TransUnion.
Can a credit check hurt my current credit rating?
Yes and No. There are two different types of credit checks: a soft pull and a hard pull. A soft credit pull will not affect your score but a hard pull will. A hard pull remains on your credit history for up to two years and can affect your credit score for up to one year. CLICK HERE to learn more.
Can I still get an auto loan with bad credit?
Yes, you definitely can. Some lenders are set up specifically to help people with rebuilding their credit. That doesn't mean that you are limited to these specific lenders, either. Having money down and remaining flexible on the vehicle you can afford will give you more loan options.
What is a good APR (Annual Percentage Rate)?
This answer varies. Everyone's situation is different. There are so many factors that can determine the APR for each loan. For example the newer the vehicle usually the lower the APR. Also the length of the loan plays a role. Some lenders will have lower rates for shorter terms while others will give a lower rate for longer loans.
How do I get the best rate for my auto loan?
This can be a complex question, however, if you want the best rate, it starts with your credit score. If you have a qualifying credit score the next step is money down to meet the guidelines set forth by the lender for which you're applying. Leave your options open to having the dealership send your application to multiple lenders to see what terms are better for you.
What is the best rate you can offer on a car loan?
The lending institution determines the loan rate. The best way to know is to start the application process. In some cases, lenders offer rate specials but they don't apply to every vehicle and every deal because they are all different. When available, specific criteria must be met to get the rate special, including:
Vehicle model year
Credit score
Loan terms
Loan to value ratio

Have questions? We have answers. Our knowledgeable staff would love to answer any questions you might have.